Mumbai News Live, Maharashtra Today: A total of 111 people were injured during the Dahi Handi celebrations on Friday of which 88 were discharged after treatment while 23 were admitted but are stable. As of 6 pm, 17 Govindas were treated at the civic-run KEM hospital, followed by 11 at GT Hospital, 10 at Rajawadi hospital, and nine at Nair hospital, among others. (PTI)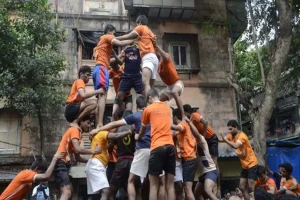 On August 17, Chief Minister Eknath Shinde announced to provide insurance of Rs 10 lakh to Govinda squad members. According to the directive, all public-run hospitals have to provide free-of-cost treatment to the patients. The Dahi Handi was celebrated with pomp in Mumbai and adjoining regions after a break of two years due to restrictions imposed by the pandemic.
At least 78 `Govindas' or Dahi Handi participants were injured while building human pyramids during the Krishna Janmashtami celebrations in Mumbai on Friday. Of those injured, most were treated and discharged while 11 were hospitalized and their condition was stated to be stable.
The Maharashtra government has issued an order instructing government hospitals to treat injured members of Govinda troupes free of cost.
~END~
(Visited 1 times, 1 visits today)